From 2020 to 2022, SPC flooring is gradually becoming popular. This is a new type of ground material—SPC floor developed by Changzhou Carui and the company. This is a waterproof floor that dares to say zero formaldehyde, and it is a floor that can be moved after paving. This kind of floor has been popular in the European and American markets for many years.
This kind of environmentally friendly floor is different from the so-called E0 and E1 grades on the market, including some so-called formaldehyde-free concept floors, because it is a truly zero-formaldehyde floor.
This SPC floor produced by Changzhou Caregi is not only zero formaldehyde, but also has waterproof, non-slip, fireproof, wear-resistant, quiet, heat preservation and flexibility properties, and has the same best-selling designs in Europe and America. This is the SPC flooring of Lanmeco from Changzhou spc flooring factory that we will introduce in detail today.
Then let's get to know this new star in the flooring industry together. I believe it will subvert your entire understanding of all floors. Let's pay attention together.
1. Green and environmental protection, truly zero formaldehyde. We all know that laminate flooring was introduced from Changzhou to the Chinese market more than ten years ago. It has been popular in China for so many years due to its super wear resistance and rich colors, but it has not been able to solve the problem of formaldehyde because it is a density board base material and is afraid of water. . We all know that the number one "criminal" of indoor pollution is formaldehyde, which is highly toxic and has a release cycle of 8-15 years. It cannot be emitted by ventilation as we usually say.
Formaldehyde is especially harmful to people with low immunity such as the elderly, children, and pregnant women. It not only causes leukemia in children, but also affects the development of children's intellectual and immune systems. Most newlywed houses are usually the future residences of babies. It will cause two or three generations, or even deeper impact and regret.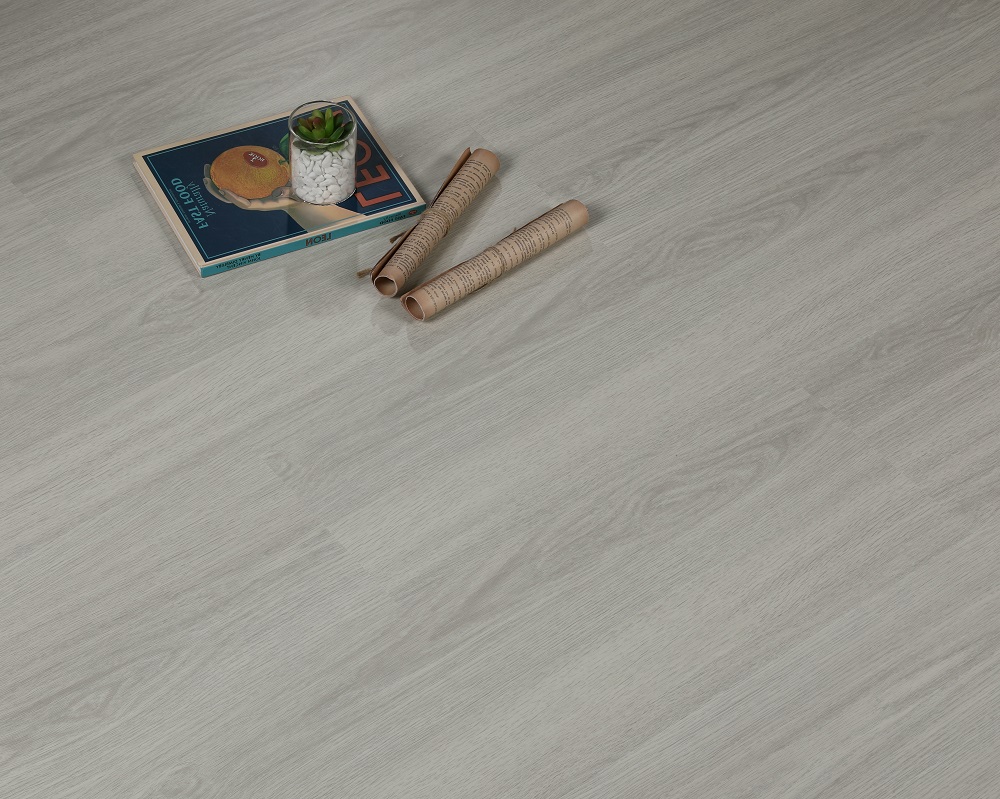 Therefore, the floor is an important decorative material for the family. What kind of floor to choose will directly affect the health of the family. How important is a truly zero-formaldehyde floor to the family. To care for the family, start with the floor.
Next, let's first understand how it achieves true zero formaldehyde. Let's take a look at its structure: PUR crystal shield transparent layer, pure PVC wear-resistant layer, rich color film layer, SPC polymer substrate layer , soft and quiet rebound layer and other components. The spc floor base material is made of mineral rock powder, perlite powder and left in the air for 30 days for natural health preservation. After being mixed with polymer resin, the mineral molecular viscosity of the material itself is stimulated, just like cement and flour. , no need to use glue, and high-precision equipment imported from Changzhou is hot-pressed at high temperature to form a stable substrate layer. Then, through Changzhou 6-roller manufacturing equipment, the materials required for the multi-layer structure floor are tightly integrated through the hot-melt hot-pressing process, forming a zero-formaldehyde floor that subverts the tradition.
2. Waterproof, can be paved in any place. The main components
of this floor are wear-resistant layer, mineral rock powder and polymer powder. It is naturally not afraid of water, so you don't have to worry about the deformation and blistering of the floor at home, or it will happen due to high humidity. Mildew, or deformation due to changes in temperature. At the same time, her surface layer is processed by the special process of PUR crystal shield, which is not afraid of wind and rain, so she is not only the first choice for safety floors in living rooms and bedrooms, but also very suitable for kitchens and bathrooms. Even if the floor is soaked in water, it will not be deformed or foamed, so the spc floor is waterproof, and its surface insulation performance will not make your kitchen and bathroom feel cold.
Third, non-slip, no longer have to worry about slipping and falling. I believe that the problem of anti-slip performance is especially empathetic to most friends who have tiles in their homes, because once it gets wet, it is easy to get dirty, and it is especially easy to slip. If you have old people and children in your family, you must be very careful and pay attention. However, if you choose to install the floor produced by Changzhou  spc flooring manufacturers in your home today, then you don't have to worry about the problem of anti-slip, because her surface material, unique craftsmanship and anti-slip design will make this floor After encountering water, it is "more astringent", and her friction will become stronger instead. So no matter what shoes you wear, you can achieve good anti-skid performance.
Fourth, flexibility, "indomitable". Because the SPC floor base material is added with a flexible rebound technology layer, the SPC floor can achieve very good flexible rebound performance. You can take a piece of it and test it yourself. It is no problem to bend 90 degrees repeatedly. You can rest assured that your family and children can play on the floor without worrying about falling pain. You can also avoid the soreness and injury of the foot bones caused by walking back and forth on hard ground for a long time. The flexibility of Lanmeco flooring and the 5mm "golden thickness" design can relieve foot fatigue, allowing you to enjoy the relaxation of bare feet when you return home.
5. Mute the sound and enjoy life "quietly". The mute function of wholesale spc is particularly powerful, because the spc floor has a mute effect unmatched by other floors, and can reduce the noise by about 30 decibels. I believe that everyone will like the mute function very much, quiet indoor The environment is very good for the rest of adults and children.
Even if you walk on the Lanmeco floor in high heels, it will only make a little sound, try it if you don't believe it. Therefore, Lanmeco's SPC floor is also one of the must-choice floors for large public places such as offices, education, commerce, airports and hospitals. The quiet performance of the SPC floor allows you to enjoy a quieter and more comfortable indoor environment.
Sixth, wear resistance. The wear resistance of the floor is also a point that many friends value when choosing a floor. So how is the wear resistance of the Lanmeco floor? Generally, the wear-resistant revolutions of a good brand laminate flooring are about 6000 revolutions, while the wear-resistant revolutions of this kind of SPC floor can reach about 16000 revolutions, or even higher.
The steel wool ball we usually use in the kitchen has a very strong grip, including its great friction. You can use the steel wool ball to scratch back and forth directly on the Lanmeco floor, and you will find that there will be no scratches on the entire floor surface. The scratches, including the surface texture, are still very clear.
The wear-resistant index of spc floor adopts EU standard, which is far superior to the standard of our country. Not only will it not have scratches, but its wear-resistant strength is several times higher than that of ordinary laminated floor. It has super wear-resistant Excellent performance, anti-shock, and not easy to deform, with a service life of more than 20 years.
Seven, fire prevention. Then the reason why the spc floor is called a super floor is that its performance is beyond your imagination. The spc floor is not only waterproof, but it can also achieve a good fire prevention effect. What should I do if it catches fire? Although the probability will be very low, but for the safety of the family, we still have to pay attention to this issue. This can also be done as an experiment. Use a watering can to spray alcohol on the floor. The whole alcohol will go out naturally after burning. Take a wet rag and wipe it on the floor, and it will become clean immediately without any traces. This is the fire resistance of the SPC floor produced by the SPC floor manufacturer. Her material is naturally flame retardant, and the fire protection level has reached B1 level. This is why many public spaces now choose SPC floor, because laminate flooring and carpets Afraid of fire.
8. Anti-fouling, easy to take care of. Lanmeco flooring is very easy to take care of because of its special surface treatment. Usually, you only need to use a general mop to clean it, which saves time, effort and worry. After the floor is installed, there is no need for special care with essential oils and waxing. Yes, as long as you use general daily cleaning and care, it can be as clean as new.
9. Adapt to geothermal heat, energy saving and heat preservation. First of all, the spc floor is waterproof, and its rock powder base layer is the same as mineral rock, which has good thermal conductivity and thermal stability, so it is very suitable for use in this geothermal environment. After reaching a certain temperature, the spc floor releases heat evenly. Because it does not contain any formaldehyde, it will not release any harmful gases. At the same time, its base material has a flexible rebound layer, and the wear-resistant layer on the surface can achieve Effective insulation.
10. Without contrast, there will be no "harm". You may choose ceramic tiles in home decoration, but the texture of ceramic tiles is cold and non-slip, and it is easy to be stained, and it is very troublesome to maintain; then choose wooden floor, in fact, wooden floor is still natural, this material is non-toxic and tasteless , the feet feel comfortable, warm in winter and cool in summer, but its price is very expensive, and the consumption of hardwood resources is very large. The amount is very large, it is not easy to maintain, and it needs to be maintained frequently, and it has to be waxed to maintain the gloss of the surface.
Although laminate flooring has a variety of designs and colors, as mentioned earlier, its base material is density board material, and the formaldehyde content exceeds the standard. No matter how good the brand formaldehyde is, it complies with the national standard, but there is still formaldehyde after all, and the most troublesome thing is that it will be deformed when it gets wet. Waste, let alone blisters! Today we don't have to be so troublesome, because now we have Lanmeco flooring, which is waterproof and wear-resistant. Don't worry about bumping or bumping, and don't worry about leaving any scratches, even if you splash it with water. If you go up, you don't have to worry about it blistering or deforming. The surface texture of Lanmeco floor is produced by high-precision printing equipment imported from Changzhou. It has rich designs and colors, and can also customize patterns with higher texture fidelity.
11. Quick installation, quick home furnishing. Such a good floor, is it troublesome to install? This kind of flooring is bought in supermarkets abroad and DIY installed by yourself. Its lock and buckle type adopts international patents, and the installation is simple and convenient. It can be easily installed with a few clicks. Lanmeco's SPC floor itself is very thin and light, and does not take up space. In addition, it can be directly laid on the original tiles and floors without knocking off the old tiles. It is very suitable for the renovation of old houses, because there is no formaldehyde, it can be laid and used immediately!